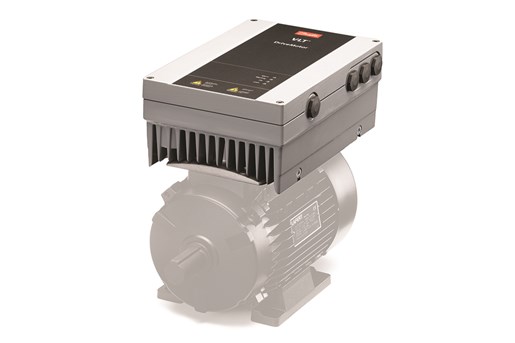 VLT® DriveMotor FCP 106 can be attached to any induction or permament magnet motor.
Driver has a built-in cooling system. Customized subplate makes montage either directly on the mothor or on the wall simple and eliminates the classic elements of the system: control cabinets and screen cables which saves the space necessary for installation.
VLT® DriveMotor FCP has built-in functions for smoothing operation of the pump, lift and fan, which makes integration and commissioning of the inverter easy for these dedicated applications.
Supply voltages and power range:
3 x 380 – 480 V…0,55 – 7,5 kW
Features and Benefits:
Built in DC chokes reduces THDi to maximum value of 46%,

Comunication protocols: FC, Modbus, Metasys, BACnet, Profibus

Case enclosure IP66/Type 4X

Sleep mode for saving energy and extending service life

High overload resistance
The VLT® Memory Module MCM 101 allows easy implementation of factory settings and speeds up start up.
Installation and maintenance costs are reduced since there is no need for external components