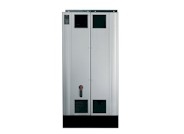 Danfoss AAF 005 filters are advanced harmonics filters to. This series filters meet the highest requirements concerning harmonic distortions. Danfoss filter actively eliminate harmonics deformations coming from nonlinear loads and improve power system's power factor.
Features and advantages
Range
380 – 415V, 50/60Hz, 190A, 250A, 310A, 400A,
Parallel connection is possible up to 4 units.
Ambient temperature
-10° to 45°C (without derating)
Overload capacity
160% for 60 sec every 10 min.
Enclosures
IP 21 and IP54
The most important benefits of using AAF 005 filters:
Save energy
Restore weak networks
Increase transformer's efficiency
Increase network capacity
Functional in retrofit aplications
AAF 005 reduces the total harmonic current distortion to 5%
One type for several frequency converters
High effectiveness and efficiency
Easy installation
No periodic inspections required
Power factor correction
Automatic adjustment to network changes
Comply with MCT10 software